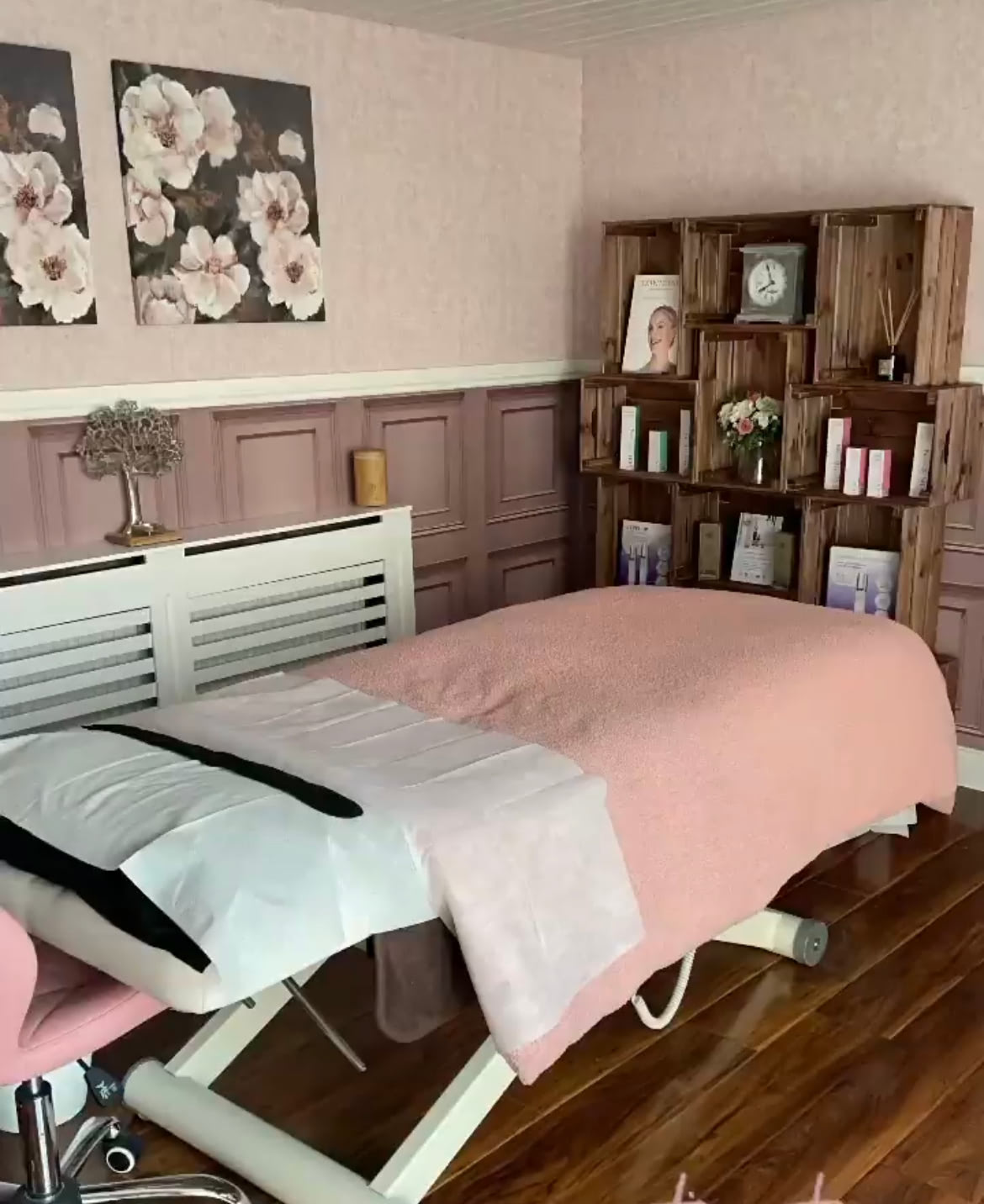 ENVIRON
A FACIAL LIKE NO OTHER
Environ believe that skin therapy is a science and that your skin deserves to look beautiful for life. Discover the benchmark of beautiful skin today, with Environ's technologically advanced facial treatments that make a real, lasting difference to skin.
Electro-sonic DF Technology 
Future proof your skin with Environ's industry-leading electro-sonic facials. Combining pulsed Iontophoresis with low frequency Sonophoresis, you can give your skin more of what it needs where it needs it most.
Cool Peel Technology
Experience the transformative power of the industry's most intelligent peeling technology. Safe and highly effective,
Environ's non-invasive Cool Peel technology will help revive, refine and brighten your skin.
Only Environ has a deeper understanding of skin. With revolutionary skincare technology combined with powerful ingredients, you can get the treatment that targets the root cause of your skin concerns. Each unique facial treatment combines the power of Environ's skincare technology and powerhouse ingredient formulations to target your specific skin
concern, delivering results like no other.
ESSENTIAL TREATMENTS
Environ's pioneering Dual Electro-Sonic Technology sets the benchmark for Professional Skincare Treatments. Low frequency Sonophoresis together with pulsed Iontophoresis in combination with Environ's Professional Skincare formulations, helps deliver more of what skin needs, where it needs it most – making a real lasting difference, for life.
FOCUS-ON TREATMENTS
Specially developed to target specific areas using Environ's revolutionary Dual Electro-Sonic DF Technology, ensuring that your primary skincare concerns are directly addressed. Perfect for when time is limited.
COOL PEEL® TREATMENTS
Environ's unique Cool Peel Technology is a non-invasive, intelligent skin
renewal system developed by Dr Des Fernandes to safely and effectively help
refine, revive and brighten the appearance of skin. Experience a real, lasting
difference through beautiful science.
Hydrafacial
The Treatment comprises of 6 or 7 step's depending on if you choose a Booster
1 . Lymphatic Treatment – A third of our lymphatic system is in our face and in todays world where we have more toxins than ever in our diet & in the air around us, beginning your treatment with gentle lymphatic drainage can prove to be very effective in helping with puffiness, circulation, congestion of the skin and nasal passages.
2 . Cleanse – At this stage of the treatment, your hydra-dermabrasion will begin removing some build up of dead skin cells. It is very comfortable but also a very satisfying feeling. Your skin immediately feels lighter and cleaner.
3. Peel – Using our Glysal vial, we apply the glycolic solution to the skin. This dissolves the glue that holds our skin cells together, allowing them to shed off easier. In turn, skin cell renewal speeds up and we automatically get younger skin coming to the surface within the weeks to come.
4.Extractions -Everyone's favourite step, debris is removed from pores with painless suction & the skin is nourished with intense moisturizers that quench skin. It's like a little powerwash & vacuum all at once for your skin.
5. Booster (OPTIONAL EXTRA €50) We have many different types of Skin Boosters to offer. They cover a range of skin concerns, Hydration, Firming, Tone, Brightening, Clarity & Calming. After the Booster is complete, Light Therapy is used for the ultimate result of your Booster.
6. Hydrate & Protect – Using a solution of peptides, hyaluronic acid & antioxidants, we fuse these ingredients into the skin giving that incredibly unmistakable Hydrafacial Glow!
7. Rejuvenation – At The Chalet we use the Dermalux Flex to complete the treatment. Offering NIR Light, LED RED & LED BLUE, this aims to brighten, calm, increase cell renewal, reduce inflammatory skin conditions, increase collagen, elastin & hyaluronic acid production. LED BLUE will also reduce P-Acne bacteria on the surface of the skin to reduce breakout activity (only used in the case of breakout activity)
A course of 6 is recommended over a 6 week period for best results if you have a specific skin concern like pigmentation, dryness, sensitivity etc but one off treatments will give amazing results too.
 Juliette Armand Skin Boosters
Skin BOOSTERS  is a complete, targeted professional skincare range which includes in salon professional treatments and home care products. Skin BOOSTERS was developed in 2015 to meet the increasing needs of today's modern men and women in preserving the health and youthful appearance of their skin.
The professional treatments offer non-invasive, painless and effective alternatives to botox and plastic surgery, without needles and scalpels. 
The range currently offers 3 in-salon professional treatment options and 7 homecare products to ensure you get the best results. 
Thavma 'Miracle' Therapy
You don't have to resort to Botox!
This treatment erases expression lines without the use of surgical intervention! With its cutting edge technology EFFECTOX™, a cocktail of peptides and new generation active ingredients that inhibits the mechanism that is responsible for the creation of expression lines and wrinkles, meaning when you laugh, frown, smile and squint – the lines don't crease up as much! 
Containing Leuphasyl which relaxes the muscle along with avocado oil, Vitamin A and E. These are professional treatments with associated home care products for optimal results. Botox paralyses the muscle and the long term effects are unknown. Juliette Armand use high-end Effectox™ technology with quality
ingredients to reduce muscle contractions and hydrate your skin, leaving you with smoother, younger looking skin without the use of a needle!
A course of 10 treatments over five weeks is recommended for best results.
Chronos 'Time' Therapy
You don't have to resort to injectable filling of wrinkles!
 This treatment repairs the marks that time leaves on the skin! Chronos uses cutting edge technology to combat signs of ageing. The Chronos Therapy provides deep skin hydration while preventing and repairing the damages of time, without using any injection! This treatment can give unbelievable results while increasing your collagen production by up to 382% over a four week period! Your skin is positively glowing after this treatment.
A course of 10 treatments over five weeks is recommended for best
results.
Opsis 'Look' Therapy
You don't have to resort to blepharoplasty!
This treatment is a specific eye contour therapy that deters the appearance of wrinkles and dark circles while combating puffiness and dehydration! Blespharoplasty is a cosmetic surgery performed by plastic surgeons to open the upper eye lids. We aim to deliver visible results using high-end ingredients. Your eyes will gain
depth and charm, reflecting your mood for life.
A course of ten treatments over five weeks is recommended for best results.
Want to know more about our Facial Packages
Facial Reviews
"I went to Amy prior to my wedding to get some facials. I cannot recommend Amy enough, she is very knowledgeable, gave me excellent home care advice to maintain my results and the facials were so relaxing. My results from my facials were unbelievable, after struggling with my sensitivity for years I finally have healthy, glowing flawless skin. I would 100% recommend anyone to go to Amy for a facial it was the best decision I made and I cannot thank her enough."
Ann Marie
"My teenage son really enjoyed his first facial with you.  Your knowledge,  expertise and guidance for his skincare was excellent.  
He is really noticing a positive difference in his skin already .  It was a pleasant  experience for him and he is looking forward to the next one."
Aine 
"Really enjoyed the treatment which is more
than a facial. The Indian Head Massage is so relaxing sends you straight to sleep. An hour and a half of pure bliss and skin instantly improved. Would recommend this facial amazing ⭐️⭐️⭐️⭐️⭐️"
Marcella
Facial Gallery Before & After's
Follow us @thehairandbeautychalet